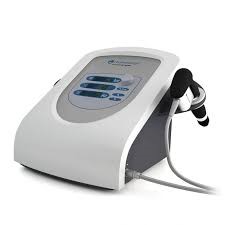 From "Stone-Age" Tool to a Modern Rehab Clinic Near You!
Ok, so it really doesn't go all the way back to the actual stone age but since its introduction in the 1980's lithotripsy has been used as a safe and effective means of breaking up kidney stones. Non-invasive and relatively painless, the act of introducing high-energy sound waves to the body to facilitate specific clinical outcomes has been around for quite some time1. More recently, a variation of this intervention called Radial Pressure Wave Therapy (RPWT/RPW), also known as Shock Wave Therapy (SWT) or Extracorporeal Shock Wave Therapy (ESWT), generates high-pressure acoustic sound waves that travel through the skin to targeted tissue for the reduction of pain and to stimulate tissue healing.2
An Excellent Addition to Managing Chronic Conditions as well as acute sprain/strain injuries
By enhancing natural healing capacities, RPW is a localized modality that serves to decrease pain and improve function with very few negative side effects. Some conditions are often difficult to treat as they frustrate caregivers and patients due to their nagging capacity to linger. Things like chronic tennis elbow, plantar fasciitis and shin-splints to name just a few, are all known to respond to well to RPWT.3
Considerations for Clinicians
Considering our current understanding of tendinopathy, ESWT seems to be an ideal management concept.3,4 The mechanical stimulus of shockwaves function as a trigger to activate a series of cellular events that have a positive effect on cell metabolism and cell cycle. Shockwave pulses are generated from compressed air which creates kinetic energy. The kinetic energy is then converted into acoustic waves that generate oscillations in the tissue. As the sounds wave energy hits the body it travels radially to a depth of approximately 2 inches.5 In just a few treatment sessions, radial pressure wave therapy can reduce muscle pain and aches, increase blood flow to the affected area and activate connective tissue, all helping to promote tissue healing and regeneration.6
Key Clinical Benefits of RPW
Short treatment time (mins) - Treat large areas - Non-Invasive and no known significant adverse effects Results in a few sessions - Alternative to medication - Muscle massage with vibrating applicator
Considerations for Patients
Radial pressure wave therapy is used by physical therapists, occupational therapists, chiropractors, and physicians, often as an adjunct to the overall treatment session. This non-invasive treatment is delivered by bringing the transmitter head in contact with the skin utilizing a water-based gel which allows the impulses to pass into the tissue. The intervention is usually brief with actual treatment times often under 10 mins. Approximately 3-5 sessions each separated by a few days to a week are usually all that are required, with most people experiencing some pain relief immediately after the first session.
Does RPWT hurt?
Radial pressure wave therapy varies in intensity depending on your needs, but it does not generally cause clients any significant pain. After the treatment, some patients may experience temporary soreness, tenderness or swelling for a few hours following the procedure. This temporary response is a wanted effect to help promote the bodies healing process.
Back to the Future No, RPW hasn't actually been around since the stone age but things like kidney stones, tendinopathy, sprains, and plantar fasciitis have been. These conditions that plagued our ancestors continue to cause us pain, limit our activities, and impact our lives. So, whether you're a mom chasing toddlers, a grandpa shoveling snow, or an athlete at the highest levels of competition, you might receive RPWT for those nagging injuries that just won't seem to go away. If you are a therapist, a chiropractor, or a physician looking for efficient patient outcomes you might consider RPW as an evidence-based solution that can differentiate the value and care provided at your clinic. In either case, the team at MedCOR Professionals is here to provide help you find the right service and products for your care or your clinic as we keep you moving forward!
Contributed by:
Chris Krause, OT/L
Dir. of Operations and Business Development – MedCOR Professionals, Scarborough, Maine
References
1) C. Chaussy, F. E. (2007). Extracorporeal Shockwave Lithotripsy (ESWL®): A Chronology. Journal of Endourology, 1249-1254. Retrieved from https://doi.org/10.1089/end.2007.9880
2) d'Agostino MC, C. K. (2015). Shock wave as biological therapeutic tool: From mechanical stimulation to recovery and healing, through mechanotransduction. Int J Surg, 147-153. doi:10.1016/j.ijsu.2015.11.030.
3) Maffulli N, L. U. (2010). Novel approaches for the management of tendinopathy. J Bone Joint Surg Am, 2604-13. doi:doi: 10.2106/JBJS.I.01744
4) Moya D, R. S. (2018). The Role of Extracorporeal Shockwave Treatment in Musculoskeletal Disorders. J Bone Joint Surg Am, 251-263. doi:10.2106/JBJS.17.00661
5) Romeo P, L. V. (2014). Extracorporeal Shockwave Therapy in Musculoskeletal Disorders: A Review. Med Princ Pract, 7-13. doi:10.1159/000355472
6) Wang, C. (2012). Extracorporeal shockwave therapy in musculoskeletal disorders. J Orthop Surg Res 7, 11, 11. doi:https://doi.org/10.1186/1749-799X-7-11