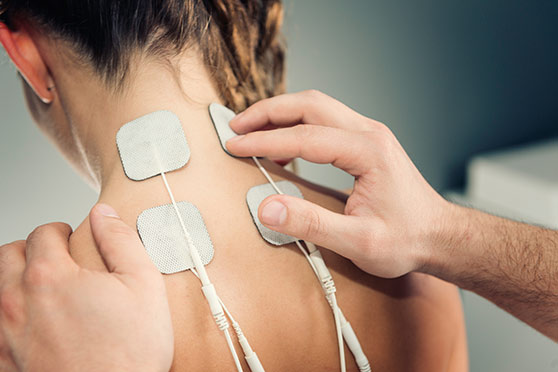 TENS uses mild electrical pulses through the skin to interrupt nerve-to-brain signals and increase production of natural endorphins, the body's naturally produced pain killers. The stimulation of nerves reduces the transmission of pain signals to the spinal cord and brain. This relieves pain symptoms. TENS can be used anywhere on the body and it is portable, so you can remain active while in use.

TENS units for targeted pain
NMES (Neuro-Muscular Electrical Stimulation) units for muscle spasms and to strengthen weak muscles
IFC (Interferential Current) units, a deeper TENS, for extended relief
What conditions can it be used to treat?
Chronic and acute pain
Post-surgical pain
Arthritis and joint pain
Back and neck pain
Fibromyalgia
Muscle pain
Neuropathic pain
Sprains, strains and inflammatory pain
How do I use it?
Each unit comes with electrodes, which are self-adhesive pads that are applied to the skin, lead wires, which connect the electrodes to the unit and batteries/power source.
Begin by placing the electrodes on clean and dry skin, surrounding the painful area. A lead wire is then attached to each electrode and the lead wires are connected to TENS unit. You can select program type and duration to find which setting is most comfortable. Always follow instructions provided by your physician for placement and use.
What will it feel like?
It may feel like tingling, tapping or buzzing. It should not hurt or be uncomfortable.
Video
Watch
this video
to see how TENS works!
DownloadsTips & Tricks
The patches can be used over and over, until the adhesive wears out.
The patches will stay sticky and last longer if you clean the skin before you start.
Place patches on the original plastic and in the storage bag after each use.
Patches that are dusty, dirty and/or hard to attach can be rinsed softly with your fingertips and a few drops of warm water.
If the stimulation diminishes, check and replace the batteries as needed.
If the stimulation or pain relief is diminished with fresh batteries, try alternating electrode placement, changing programs, or intensity settings for greater relief.
Attach a belt clip to the TENS unit to use hands-free while you are active.
Need help placing electrodes? Here is some info that may help.
Need to order supplies? Call us at 207-222-2828
Did you know? Mainecare covers the cost of a TENS unit and monthly supplies. Call us for more information about coverage with other insurance plans, 207-222-2828.